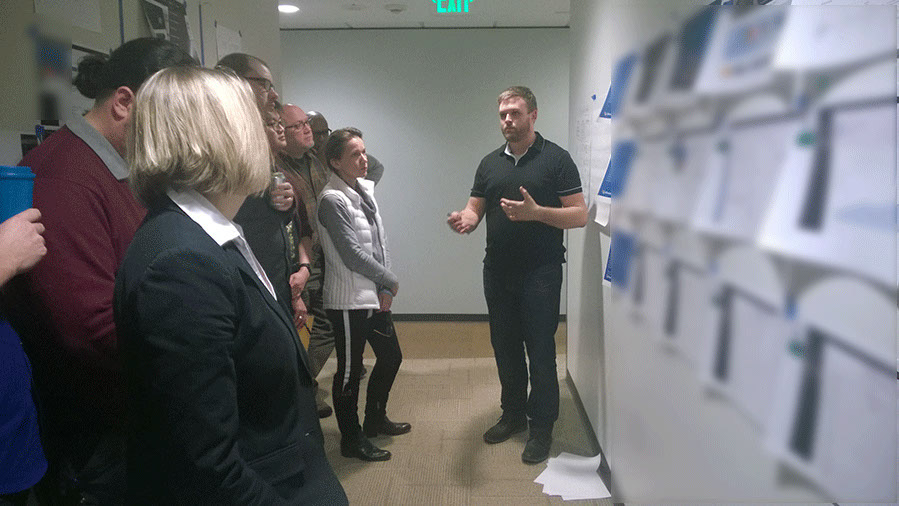 One of the areas of design I am most passionate about is helping my coworkers be the best version of themselves.  As designers, critique is a powerful tool to help with this. It was also one that our team struggled with for a while.
After implementing process improvements, critique became something that our senior manager used to show his manager and skip level manager the strengths of our team.
Before:

Design critique was a twice weekly meeting and something our management cared very much about getting right, but the necessary preparation was never prioritized. Critique was assumed to be self organizing. Expectations were unclear as to what team members could expect to get out of the meeting so designers were unsure of when their work should be shown. Notes were not being taken so valuable feedback was lost. Junior designers were even afraid of appearing to be "wrong" if they showed early and imperfect designs. Because of all of these issues critique was canceled more often than it was held.

After:

My first task after my promotion to senior designer was to improve the critique process.

The first thing I identified that needed to be fixed is critique needed to be a safe environment to show early or imperfect work. In order to support this goaI I became the moderator and set the expectation that unfinished work was to be expected and embraced in this forum

The second challenge to overcome was getting people to present their work.  I mentored other designers on critique best practices and helped them prepare. This resulted in fewer cancellations of the meeting.

Thirdly, I made sure that the designer presenting work was not also responsible for taking notes or moderating the discussion.  This allowed our meetings to stay on track and ensured that feedback received was properly documented.

What we saw happen was astonishing. Over the course of two months design critique went from being a sore spot where people were afraid to present to a forum where participation was up, morale had improved and feedback was captured. Our senior team manager began using it as an example to his manager and skip level manager of a shining example of what we do well as a team.